Nominal Accounts Examples List
What are Nominal Accounts?
Accounts that relate to the expenses, losses, incomes, and gains of the business concern are known as nominal accounts.
* These accounts do not have any existence, form, or shape.
* These accounts are also known as temporary accounts.
* At the end of the financial year these accounts are transferred to the Trading Account(Direct Expenses) Or Profit and Loss Account(Indirect Expenses)
Nominal Accounts Examples List:
1. Rent account,
2. Commission account,
3. Interest account,
4. Discount Received account,
5. Depreciation account,
6. Bad debts account,
6. Salaries account,
7. Wages account,
8. Charity account,
9. Advertisement Expenses account,
10. General Expenses Account,
11. Office Expenses Account,
12. Purchases account
13. Sales Account,
14. purchases return Account,
15. Sales return Account,
16. Adjusted Purchases account
17. Discount allowed account,
18. Carriage Account,
19. Administration Expenses Account,
20. Interest Account,
21. Dividend Account,
22. Wages Account
23. Manufacturing Expenses Account,
24. Excise Duty Account,
25. Import Duty Account,
26. Interest Received Account,
27. Stationery Account,
28. Sundry Expenses Account,
29. Carriage and Cartage Account,
30. Postage Account etc.
Nominal Accounts Examples List
Golden Rules Of Accounting(Debit and Credit) Traditional Approach-
Personal Accounts-
Debit the receiver,

Credit the give

r.
Real Accounts- 

Debit what comes in, Credit what goes out.
Nominal Accounts- 
Debit all expenses and losses, Credit all incomes and gains.
30 transactions with their Journal Entries, Ledger, Trial balance and Final Accounts- Project
Golden Rules Of Accounting MCQs with solved answers
Personal Accounts Examples List
Nominal Accounts Examples List
Golden Rules of Debit and Credit in the American Approach-
Golden Rules Of Accounting Modern Approach

–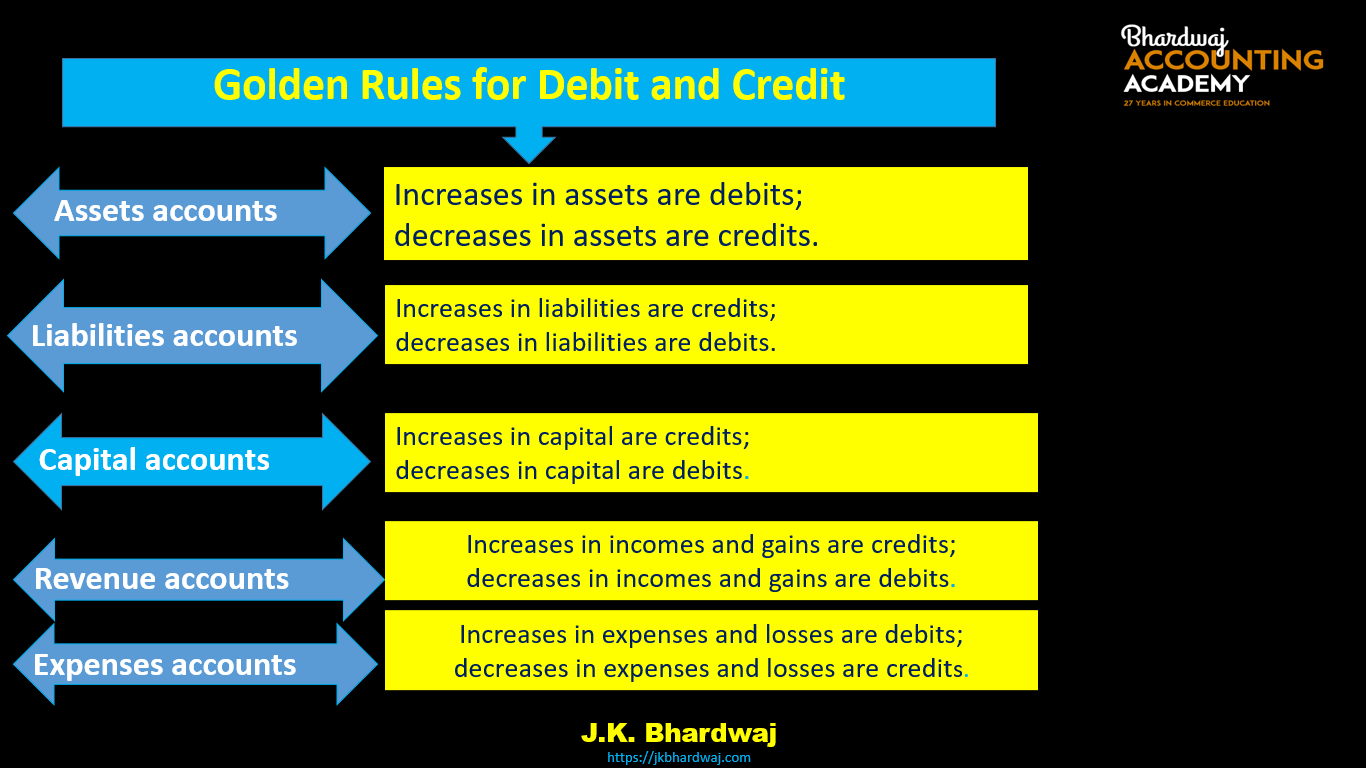 Nominal Accounts Examples List